LIMINAL ARCHITECTURE | On top of the World
Posted 19 August 2020
Our delight has reached new levels with the announcement this week of winning 'The International Architecture Award 2020' for our Coastal Pavilions at Freycinet Lodge! We've barely managed to put the bubbles away after having a successful run of international recognition for our architecture, product and furniture design. We are thrilled, to say the least!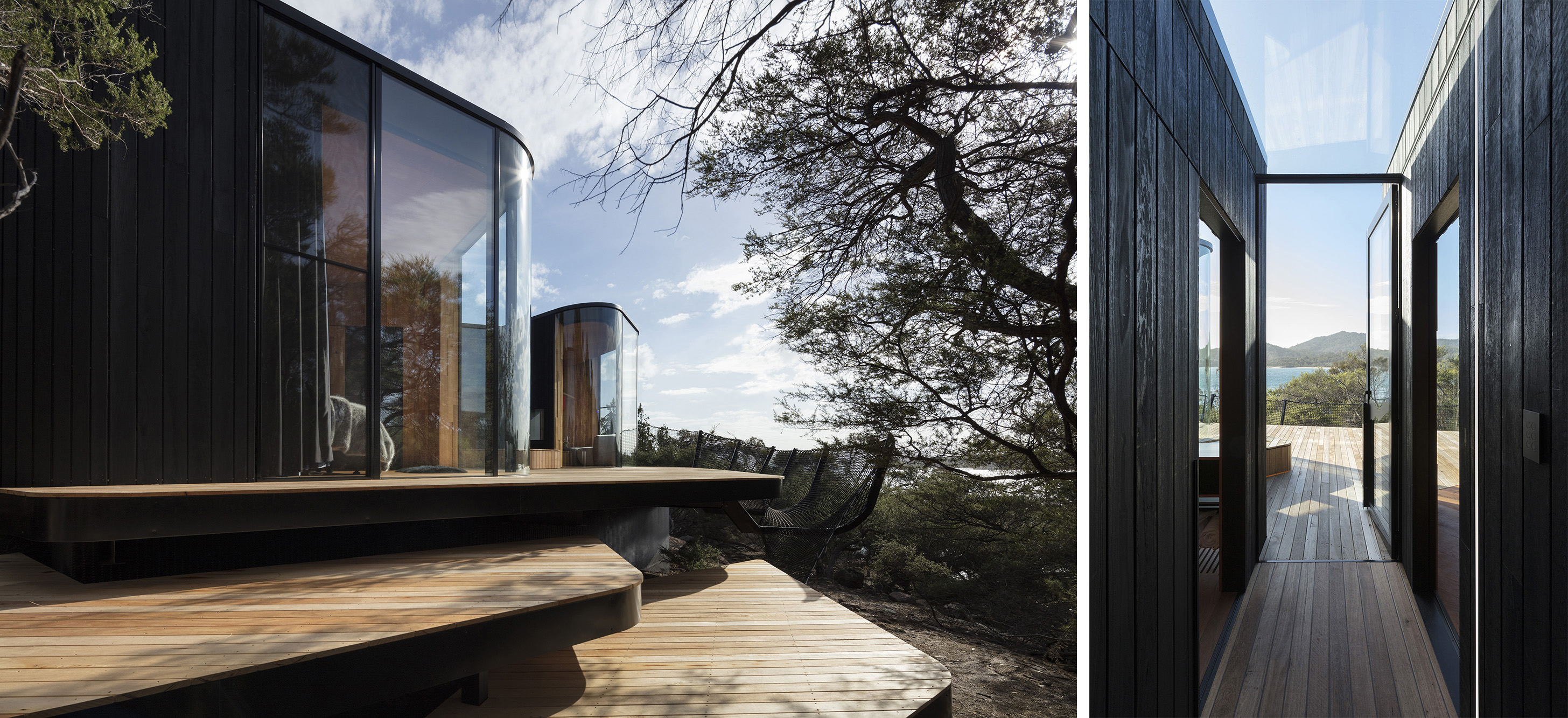 Images Dianna Snape
This time it is for the highly prestigious international award programme presented by The Chicago Athenaeum Museum of Architecture and Design and The European Centre for Architecture Art Design and Urban Studies, 'honouring new and cutting-edge design worldwide'.
Congratulations to our extensive project team and collaborative partners who made this project possible, who never let go sight of the vision and understood the difference that could be made with this project, even given the challenging obstacles that were constantly thrown our way, which together we overcame.
Humbled again by the incredible worldwide company we sit alongside, including Herzog & de Meuron, MVRDV, Mecanoo, Morphosis Architects, SOM, Gehry Partners and NADAA to name a few and our Australian counterparts, Johnson Pilton Walker, Aspect Studios with Kengo Kuma, FJMT and Ian Moore Architects.
The overall award programme selected 120 of the most outstanding worldwide projects of architecture, urban planning and landscape architecture for their design excellence from a shortlist of 400.
Due to the current global travel restrictions the award ceremony will be postponed to 2021, providing that international travel will be possible. In the interim, on Friday, September 11, 2020, The Chicago Athenaeum, together with The European Centre for Architecture Art Design and Urban Studies, will open the Awards Exhibition "The City and the World" at The Contemporary Space Athens which will also have virtual access.
Consistent with our values and the importance of advocating good design to influence policy and provide better quality of life for our communities, 'The Chicago Athenaeum is an International Museum of Architecture and Design, appropriately based in the world's first city of modern architecture and design—Chicago. The Museum is dedicated to the Art of Design in all areas of the discipline: architecture, industrial and product design, graphics, landscape architecture, and urban planning. The Museum's mission is the advancement of public education about the value of Good Design - from the "spoon to the city" - and how design can positively impact the human environment.'
More on the Chicago Athenaeum Museum can be found here.
'The European Centre for Architecture Art Design and Urban Studies is dedicated to public education concerning all aspects of the built environment - from entire cities to individual buildings - including the philosophical issues of arts and culture that ultimately give the final shape to design. A high emphasis exists on contemporary values and aesthetics, conservation and sustainability, and the theoretical exploration and advancement of art and design as the highest expression of culture and urbanism.'
More on the European Centre and Awards can be found here
Reported also in the local newspaper, The Mercury and can be downloaded here.