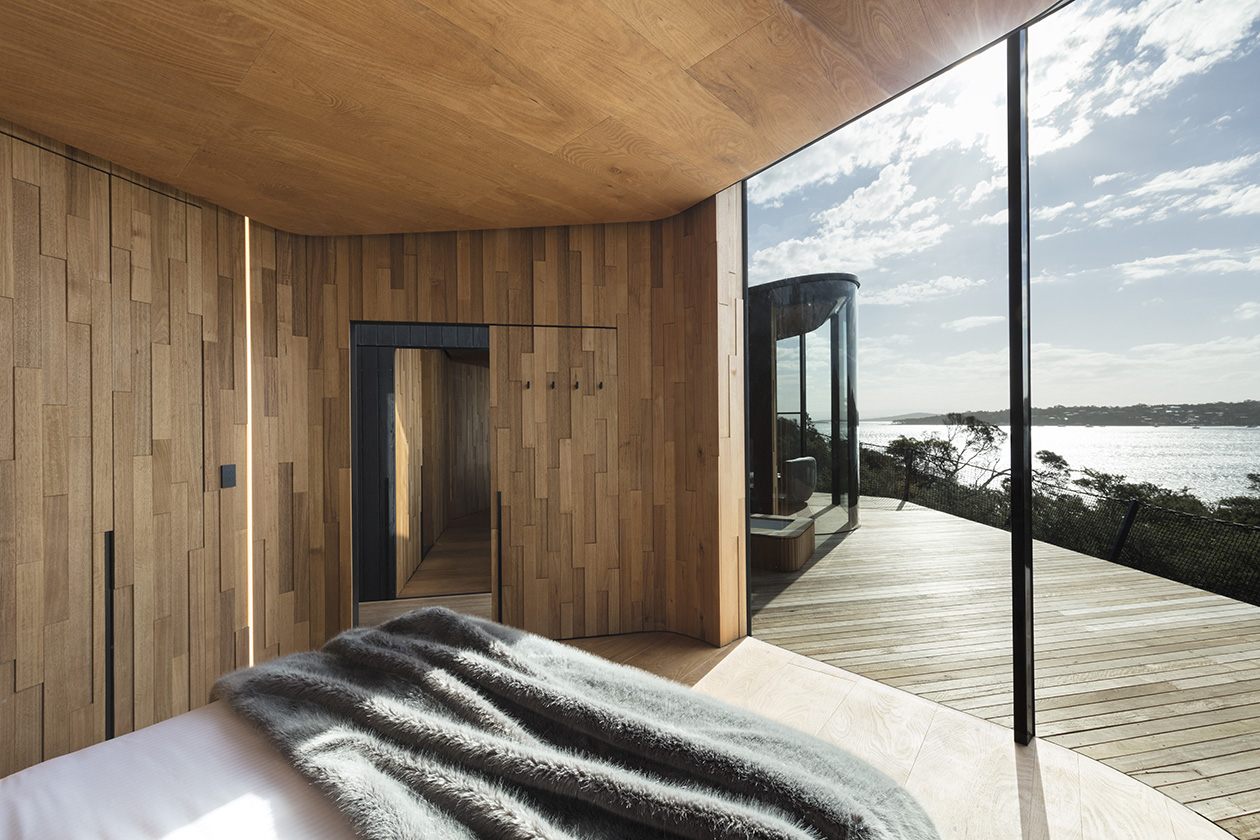 Design by LIMINAL Architecture, interiors by LIMINAL Spaces, furniture by LIMINAL Objects, photography by Dianna Snape.
The diverse character and sense of place experienced through wandering the Freycinet Lodge site is unique. We have drawn inspiration from this diversity and its cultural heritage to influence the architecture and interiors of the new accommodation – giving them a distinctive and immersive personality. Opened in 2018, the Coastal Pavilions cater for a new type of guest for Freycinet Lodge.
To deliver a unique and meaningful response, it was important to understand the site's micro-climate, therefore ensuring outcomes were shaped by place. To do this, we curated specialists to help inform the cultural, environmental and physical character of the site.
The form and spatial relationships take their cue from the coastal granite rock formations that dominate the edge of the waterfront – responding to the smooth, rounded and beautiful forms. The Coastal Pavilions consist of a living pod and bed pod connected by a bathing link that form an embrace, reminiscent of Honeymoon Bay, protecting the outdoor deck and offering privacy to the outdoor bath. The leasing boundary, protruding rocks, proximity of nearby cabins and minimal clearance of vegetation, influenced the planning and shaping of the pavilions. The constraints of the site meant the planning had to bend and wrap for optimal orientation, to create a sense of privacy, and to nestle into the landscape lightly.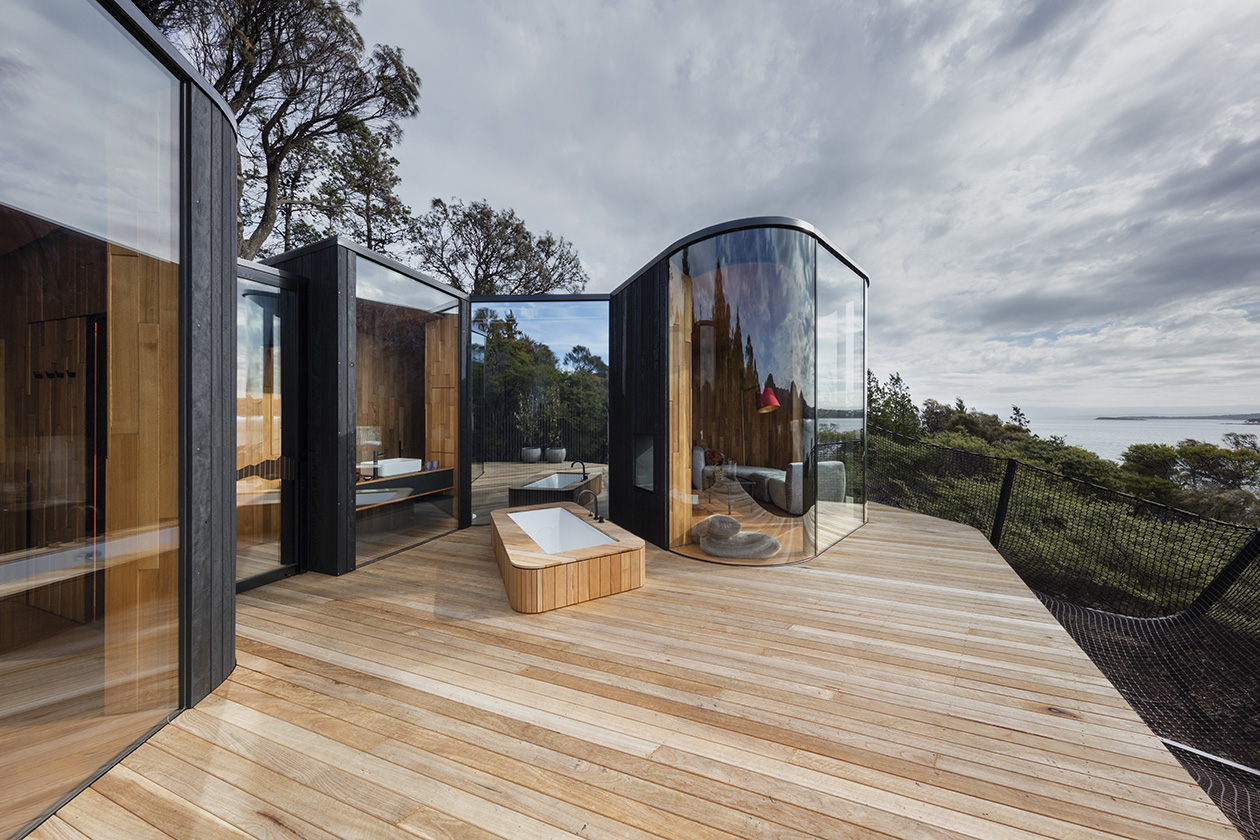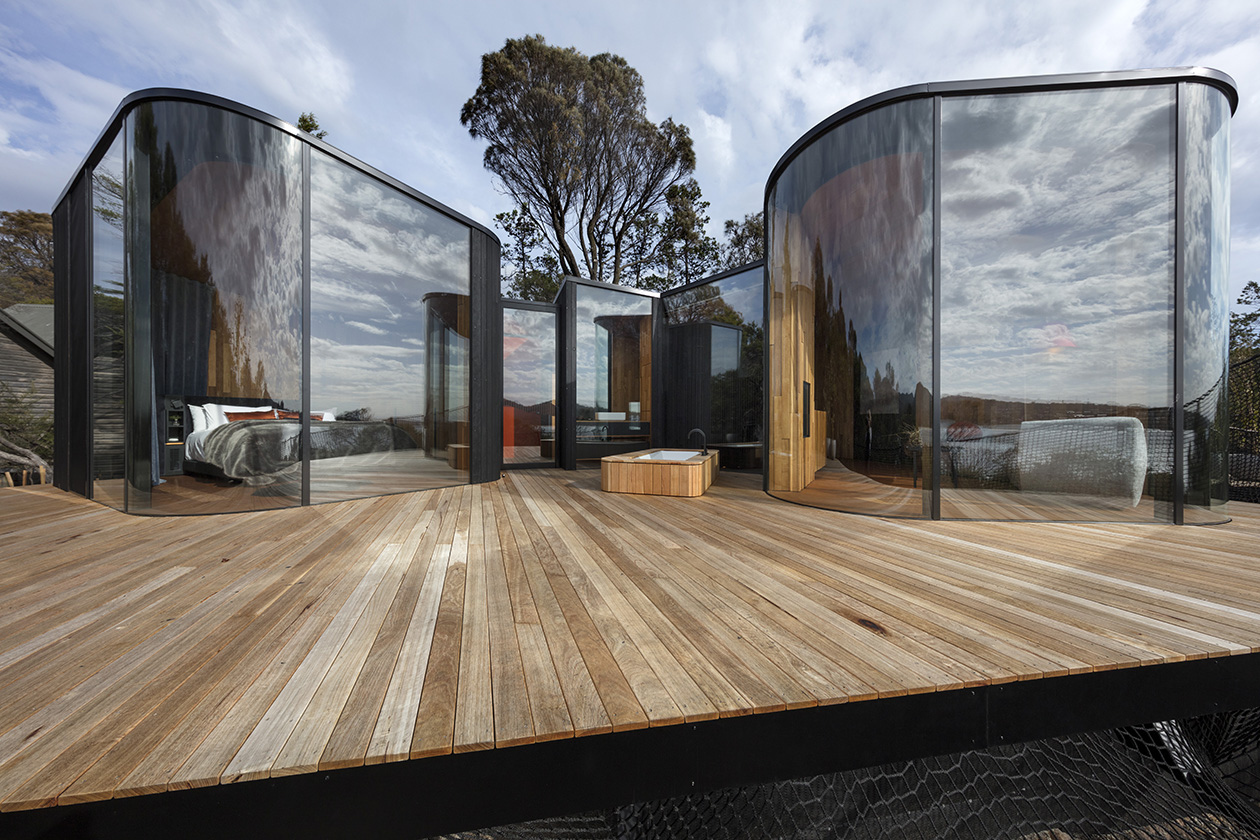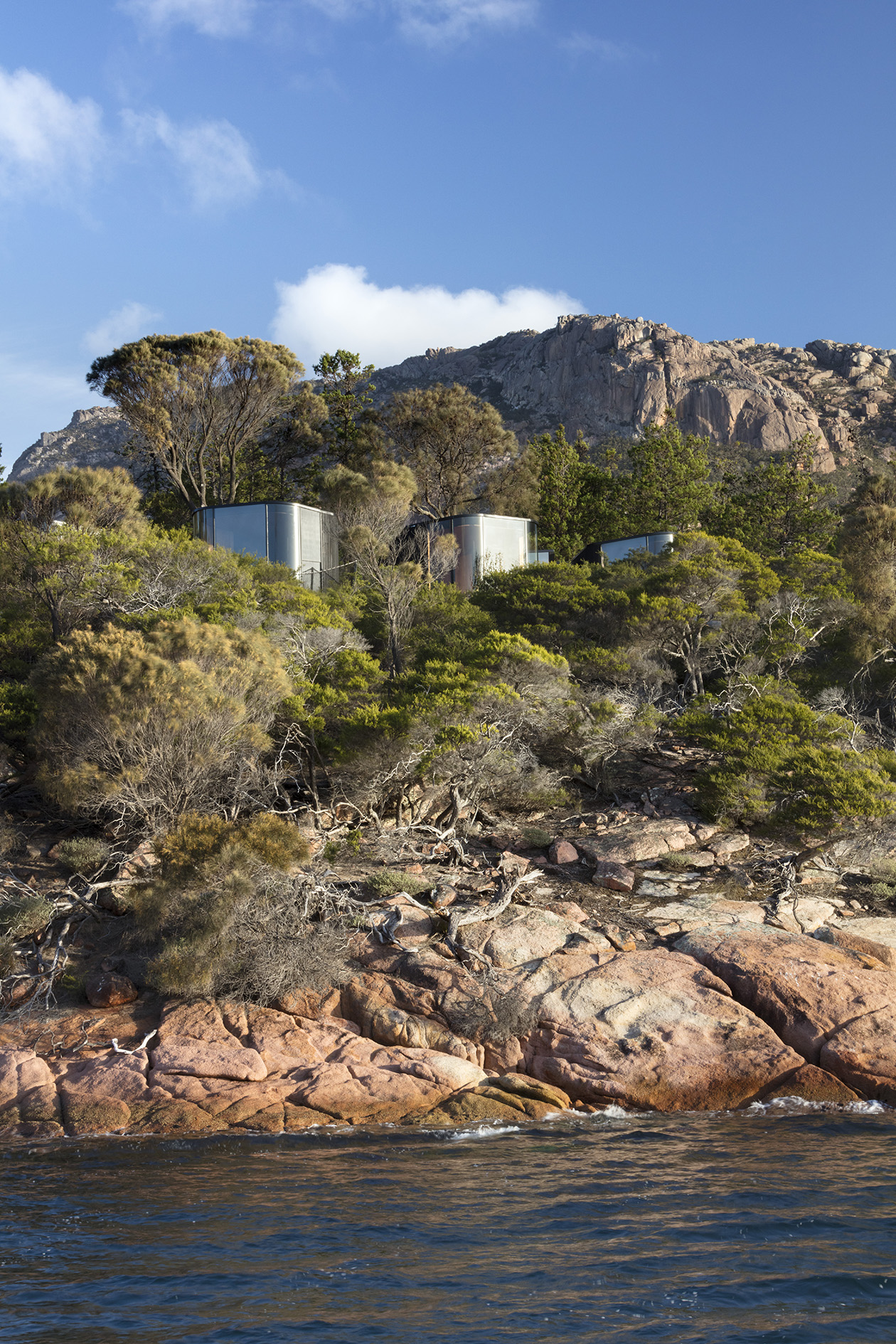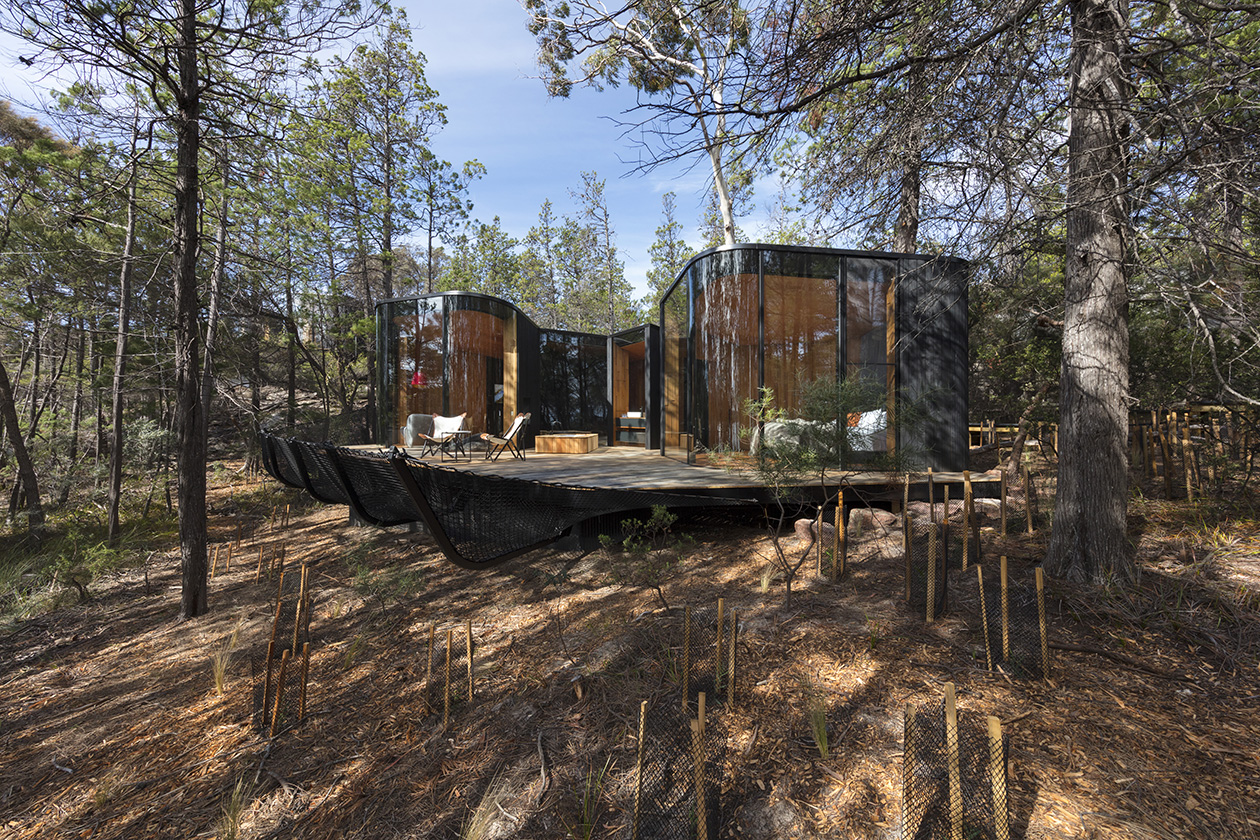 An experiential highlight is the netted, hammock-like balustrades. Recognising the desire to retain the views that a standard balustrade would interrupt, LIMINAL devised the unique solution that provides a novel opportunity for relaxing and enjoying the incredible setting.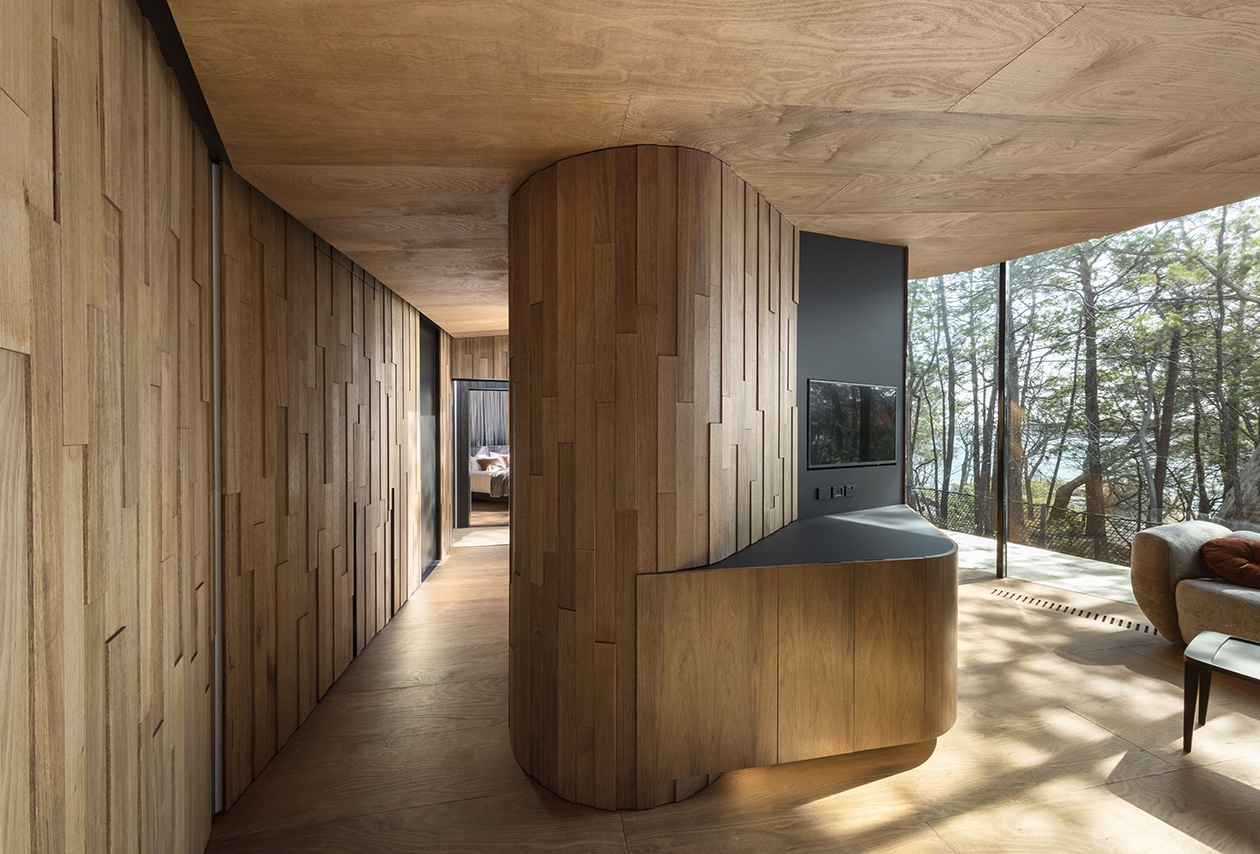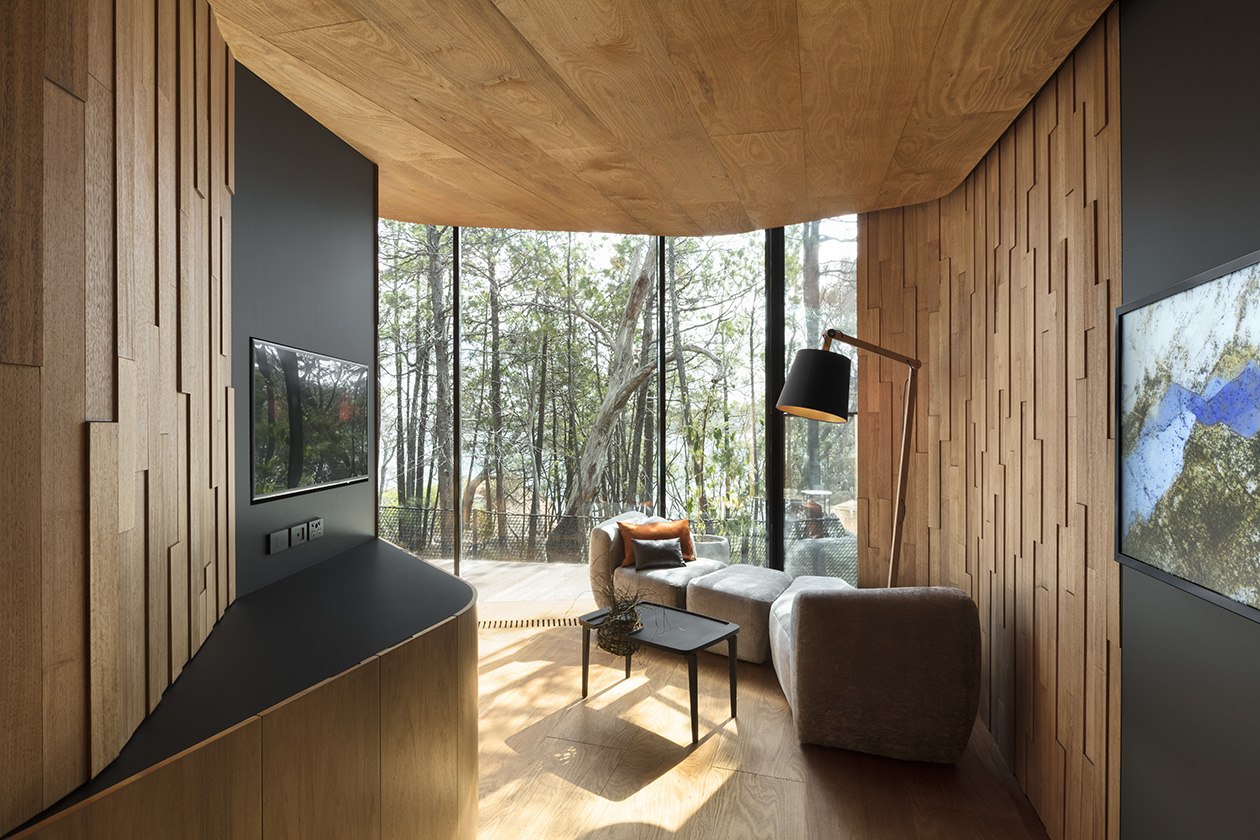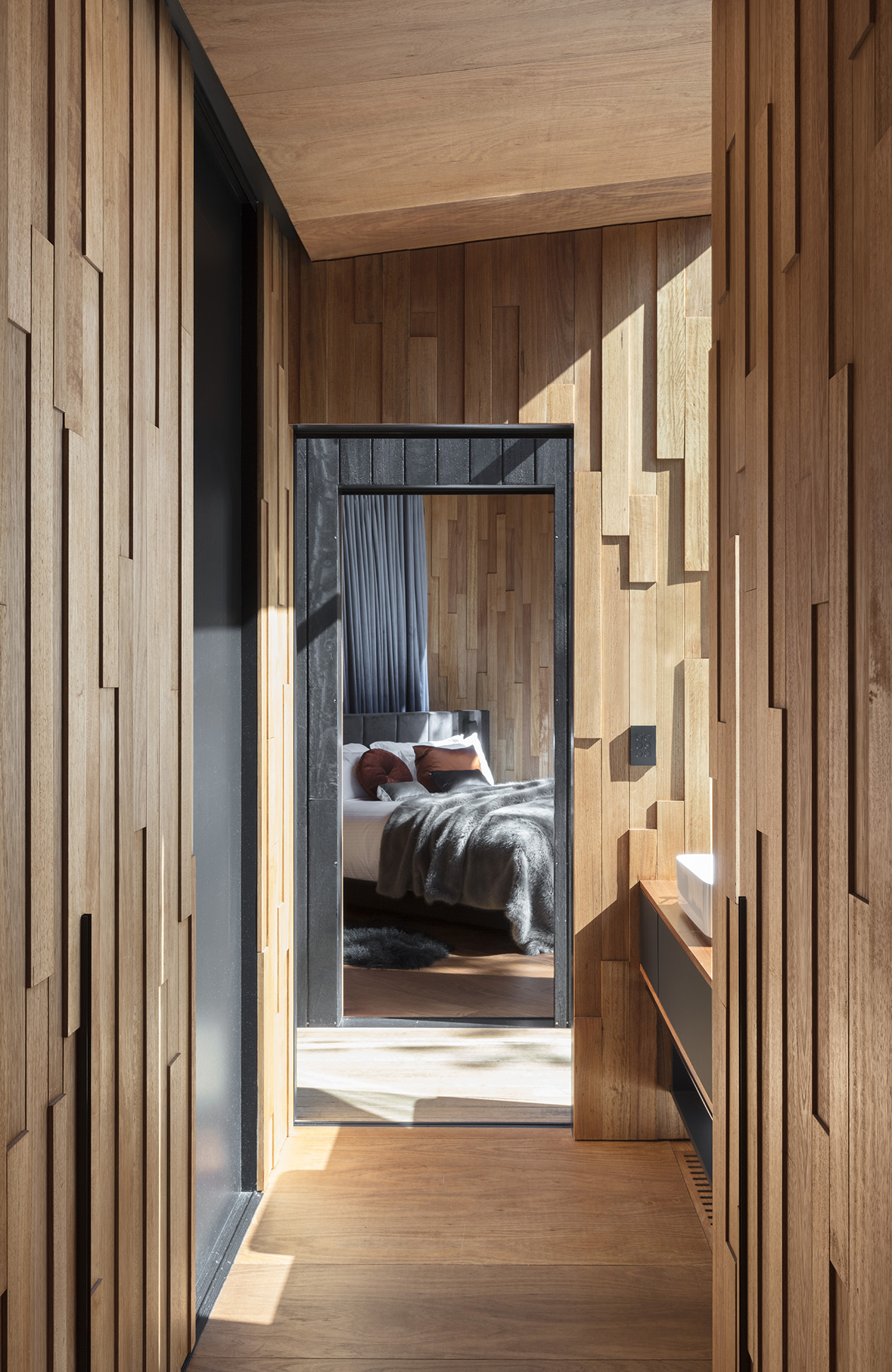 The interiors of the Pavilions are immersed in the warmth of Tasmanian timbers. Offcuts of Tasmanian oak timber, Blackwood and the only plywood to be manufactured locally, totally enwrap the interiors to emphasise a completely Tasmanian experience. Using and showcasing utilitarian and natural materials in innovative ways have created a unique atmosphere befitting of its setting.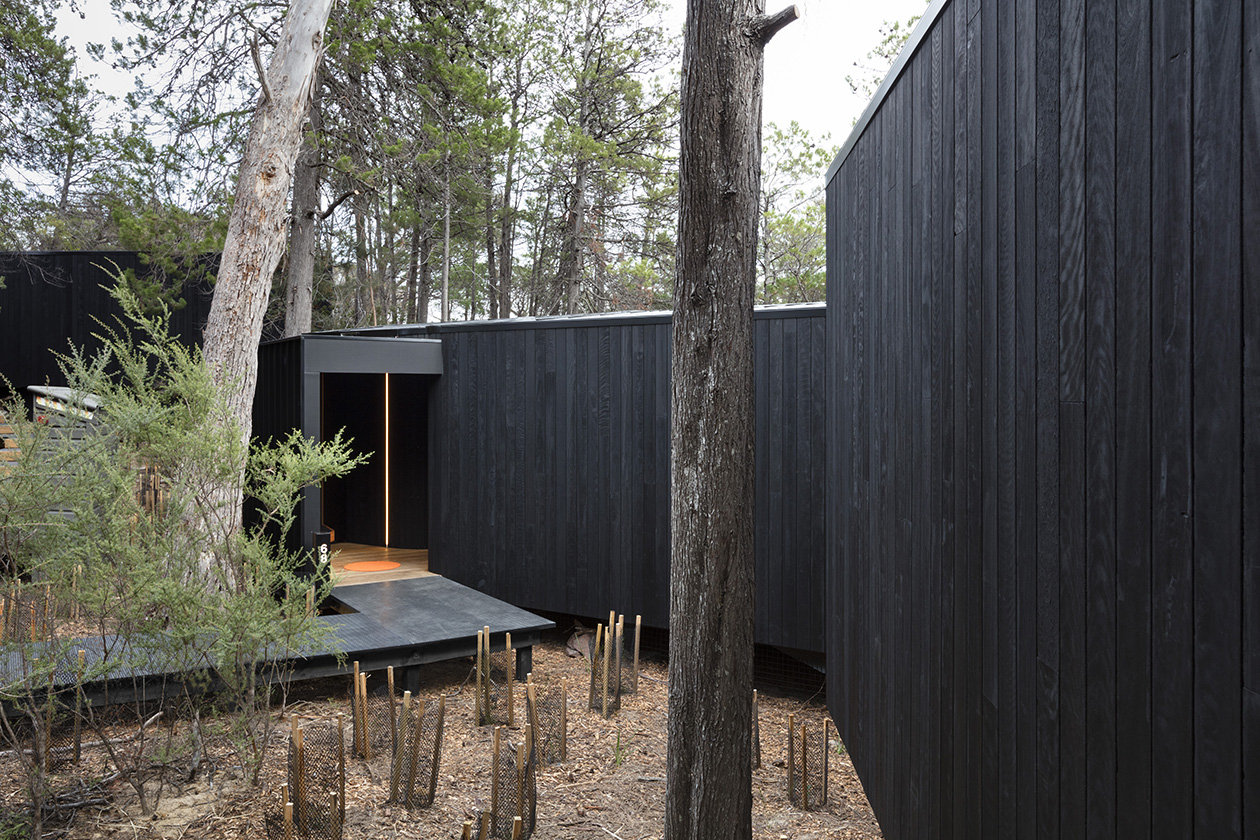 Design by LIMINAL Architecture, interiors by LIMINAL Spaces, furniture by LIMINAL Objects, photography by Dianna Snape.
The exterior protective shell is made of durable Red Ironbark that is charred – providing ember protection in the bush context, while also increasing the longevity of the timber and ensuring the Pavilions are visually discreet, providing a recessive backdrop to the natural vegetation and stunning, filtered water views.
Also collaborating with us to deliver the project were Cordwell Lane Builders, EcoTas Ecology, CHMA Archaeology, Brett Woolcott Surveyors, JMG, Gandy and Roberts, Pitt and Sherry, Stehel Consulting, Howarth Fisher, Ireneinc, Handmark Gallery, artists Helene Weeding and Brigitte de Villiers with geologist Bill Cromer.
LIMINAL worked with an invested community, environmental groups and aboriginal elders to develop a contemporary response that respected culture and the land, providing a new lease of life for Freycinet Lodge, while acknowledging the privilege to inhabit a beautiful part of the world.
Some of the published articles can be found here: