LIMINAL ARCHITECTURE | Freycinet Coastal Pavilions spark TRENDS in New Zealand
Posted 4 December 2020
Our approach to bathroom design is the focus of the Freycinet Coastal Pavilions article in the latest New Zealand Trends magazine.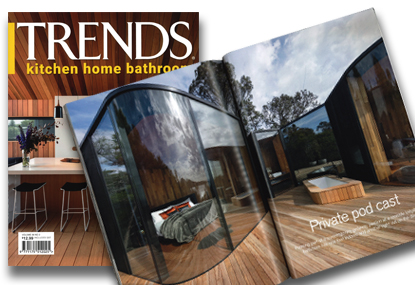 The Pavilions have been designed to respond to the granite rock formations and immediate curving coastline of Freycinet.
The curved Pavilion footprint reflects the surrounds while also allowing opportunity for shelter and privacy. This creates the perfect form for an indoor/outdoor bathing experience that allows rejuvenation while contemplating the natural beauty of Freycinet.
Each Pavilion consists of a living pod, bed pod and a bathing link between, including an open-air bath. The shower room features dramatic charcoal tiling that contrasts with the Tasmanian oak interior cladding and naturally guides the eye to the full-length window that overlooks the bath, deck and ocean beyond.
Read more about Trends magazine here
Read more about the Freycinet Coastal Pavilions here