Ogilvie High School Student Centre, New Town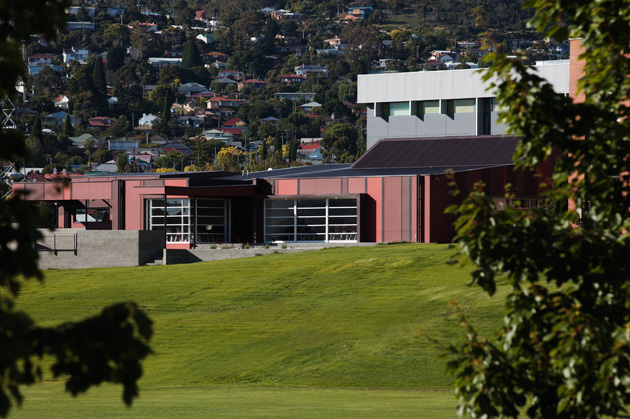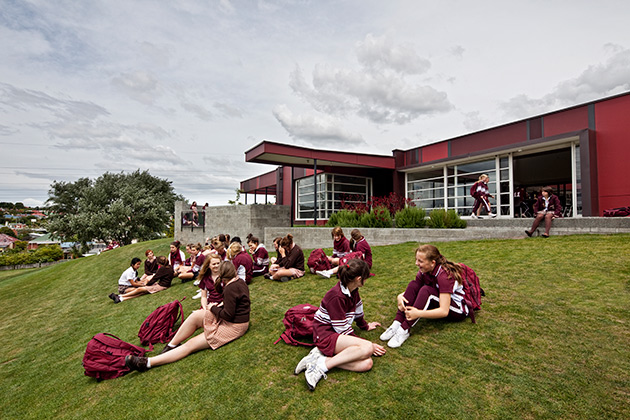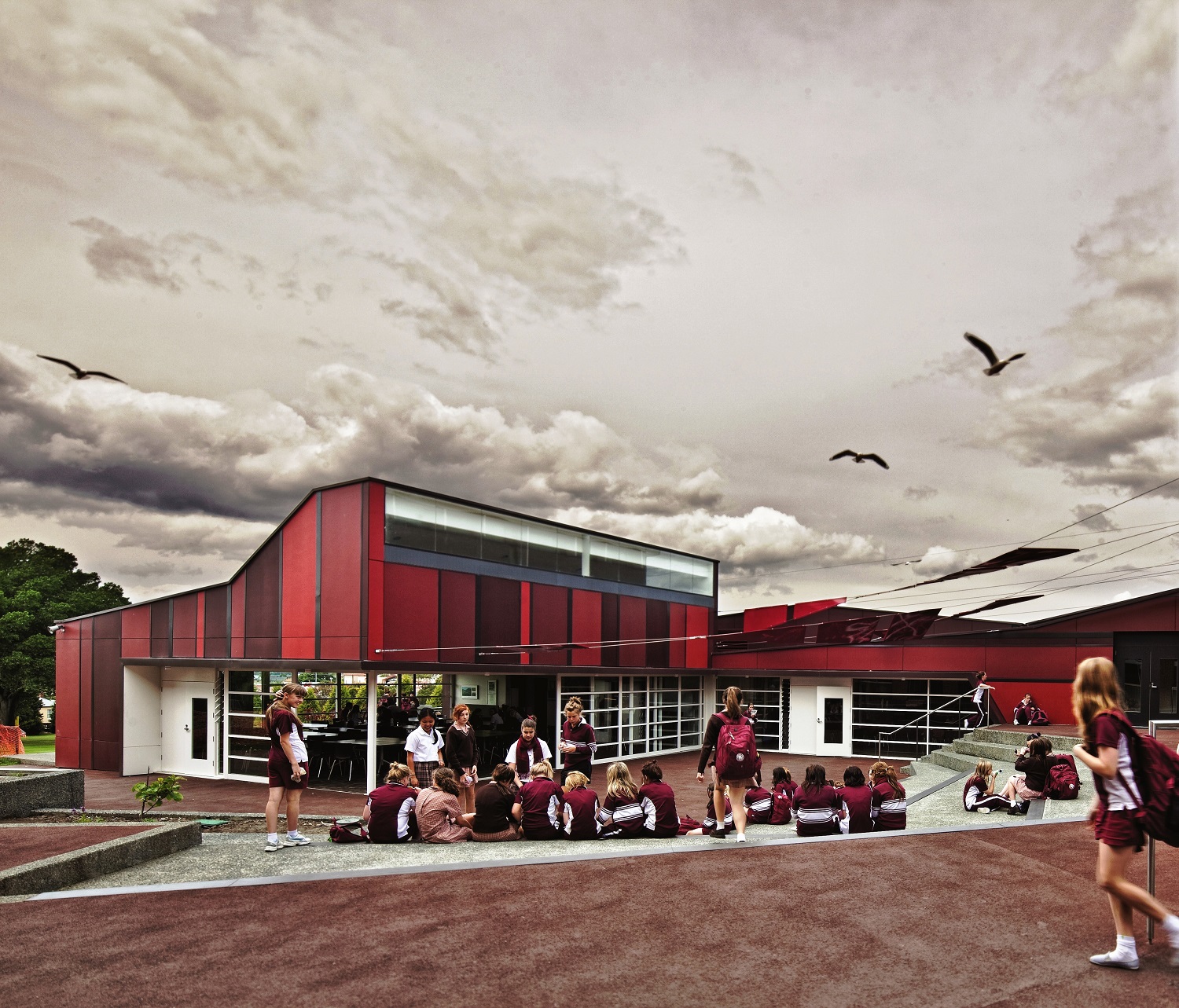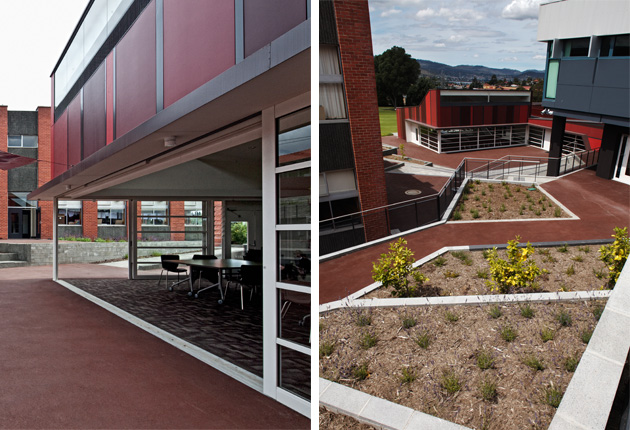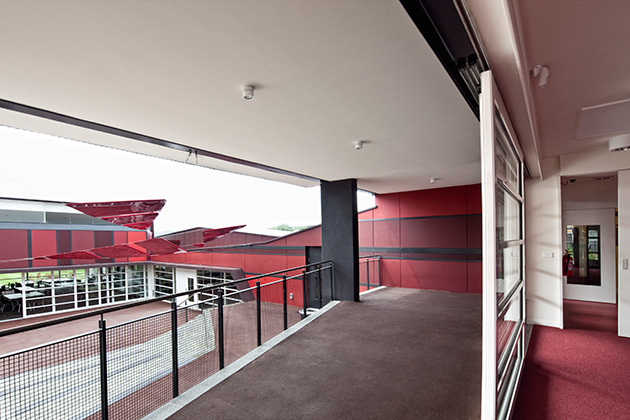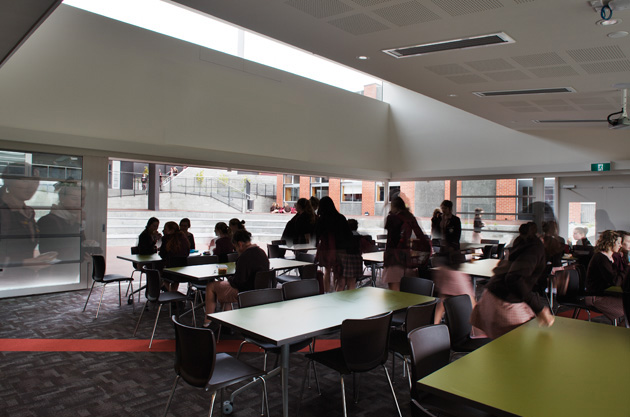 Photography by Peter Whyte and Justin Bernhaut
The original Ogilvie High School was designed by Sydney Blythe in 1937 giving the site heritage status. The school has expanded considerably since then, but has never developed a 'heart' where the students are encouraged to gather, interact between years, be nourished or had an environment that fosters informal learning.
The design of the Student Centre, incorporating surrounding outdoor areas with edible gardens, brings to the grounds a 'village centre' - a destination for gathering, meeting, announcing and entertaining while also being equipped with state-of-the art teaching facilities for developing catering skills both domestic and commercial. The self-sufficient nature of the Centre encourages after-hours use by the broader community and facilitates school events and partnering opportunities.
The design concept employs a similar philosophy to the original building where form follows function in the sense that volumes within the building vary in accordance with the purpose of the space. The building wraps around an outdoor gathering hub (rather than the library or school hall), reflective of a changed attitude to education. Like the Sydney Blythe building, contemporary building methods have been used to inspire façade treatment and the School's branding.
Jury citation, The Alan C Walker Award for Public Architecture, 2011:
'The reinvigoration of Ogilvie High School, New Town originally conceived by Sydney Blythe in 1937, is deftly handled by the team at Liminal Architecture. The new Student Centre contemporises the relationships between space and education and encourages new ways of learning. The Centre identifies informal peer-based activities and socialisation as critical to overall learning outcomes. The architecture is stitched and woven into an existing campus to provide a focus for student gathering and connection to outdoor activities. Colour is boldly and deftly chosen to unite and harmonise buildings from many periods.
The new works bring together and opportunistically utilise previously disused space, but remain bold and distinctive in their posture, cascading down the topography, connecting students to outdoor areas. The roof forms lift to accentuate places of gathering and learning and gesture to the oval and the borrowed landscape beyond. This is the work of creative architects who have understood the delicacy of intervention in a mature and functioning facility with layers of building and educational history. Their work is sensitive and bold and has delivered new life and created a centre for the school, while symbolising contemporary teaching and learning'.
T +613 6231 0166
contact@liminalstudio.com.au


palawa country
100 New Town Road | nipaluna New Town | lutruwita Tasmania | 7008
wurundjeri country
Level 2 GPO Building 350 Bourke Street |
naarm Melbourne | Victoria | 3000