LIMINAL STUDIO | Team Member Ronja Scherer
Posted 20 December 2016
Ronja found her way to Liminal from Germany and commenced with us in April. A recent graduate of architecture from Technical University Braunschweig, Ronja is no stranger to Tasmania having lived here as an exchange student for 12 months in 2004-05. At that time she made friends for life and fell in love with the place, which is why we are fortunate to have her return to Tasmania and share Liminal's aspirations.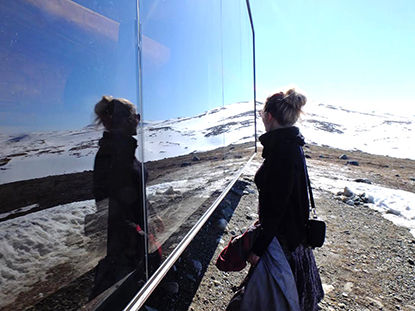 Ronja's sense of humour, design sensibility, positive attitude, global outlook and inspiring energy is a fantastic fit for our passionate, talented team. According to Ronja, the highlight of her time with us so far has been the opportunity to contribute to our bespoke and thoughtful accommodation pods on the east coast of Tasmania. The sensitive nature of the unique landscape demands a respectful approach and we all feel privileged to work on this special project. Ronja particularly loved the site visit!
Since launching Liminal in 2011 we ask our team members to select an object that is meaningful to them to form part of the team's photography – click here to gain insight into Ronja's passions.