LIMINAL STUDIO | Team Member Belen Chirivella Vina
Posted 21 December 2016
We welcome Belen as our most recent Liminal fresh from Spain! Having grown up in Europe, Belen is a seasoned traveller and has spent her last eight years since graduating from the Escuela Tecnica Superior de Arquitectura de Valencia, living and working in Spain, Poland and Malaysia.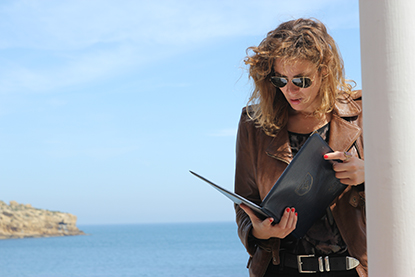 In Valencia, Belen learnt to work and play under the Mediterranean sun, designing custom ceramic tiles for urban intervention, collaborating with the Faculty of Architecture leading student workshops for "The End of The World" and producing objects for play, such as handmade longboards or flatpack carboard cubby houses for kids. In Polonia, she learned how to frame compositions through photography and heightened her observation skills through drawing. In Malaysia, she learned about spirituality, interstitial spaces, the wonders of nature and the restorative powers of the garden.
The global experience Belen brings to our Island, plus her passion, curiosity, creativity, intelligence, drive and adventurist spirit complements our diverse team perfectly. Her vast interests, enthusiasm and team player mentality is just the right mix for the breadth of work we undertake within the traditional and non-traditional realm of architecture and design. Belen gets Liminal's culture of interdisciplinary exchange and that 'many minds make enlightened work'!
Since launching Liminal in 2011 we ask our team members to select an object that is meaningful to them to form part of the team's photography – click here to get some insight into what keeps Belen occupied outside the Studio.