LIFE IS TOO SHORT TO BE MEDIOCRE | Apply now
Posted 26 January 2016
At Liminal Studio we are looking for an architect with at least 5 years' experience who shares our values.
And our ambition.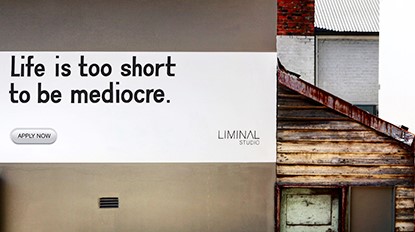 You will be a conceptual thinker with outstanding design skills who is curious; curious enough to be inspired by other design disciplines.
You will have experience working on complex projects with the ability to resolve and coordinate outcomes, with rigour, and to deadline.
You will be able to take direction to complete and augment an overall design, while mentoring younger designers.
You will know that a committed, talented team of individuals will always have more success than any individual.
You will love travel.
Technically, you'll have excellent documentation skills and extensive knowledge of 3D modelling and presentation software, including ArchiCAD, SketchUp, Rhino, Photoshop and InDesign.
We know that this role isn't for everyone, but then, not everyone can be world-class.

Email your submission to: contact@liminalstudio.com.au
Submissions close Monday 01 February 2016.