LIMINAL STUDIO | Brickworks DoubleTALK - Peta Heffernan
Posted 3 September 2018
In August our co-founder Peta Heffernan was invited to be part of Brickworks' DoubleTALK Speaker series. This series is considered one of the best architecture speaker series in Australia, so it was an honour for Peta to be involved.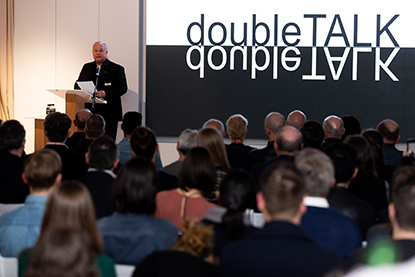 Held at Brickworks Design Studio in Sydney, Peta was joined at the lectern by Liam Proberts from Brisbane architectural firm Bureau Proberts. Moderated by Stephen Varady and Robert Nation, Peta's presentation focused on Liminal's processes, team culture, collaborations and global connections.
During the talk, Peta shared behind-the-scenes intel about the recent projects our team has worked on including the National Design competition for the Cascades Female Factory History and Interpretation Centre, the Glenorchy Care Centre, the Coastal Pavilions at Freycinet Lodge and the carbon neutral custom-designed bricks we developed with Brickworks.
Peta also spoke about the fascinating design collaboration between Dancenorth, Liminal Spaces and Niklas Pejanti for the production of Dust, a work premiering at the 2018 Brisbane Festival, and the Tasmanian Theatre Company for Born From Animals.
Photography by Brickworks.