LIMINAL ARCHITECTURE | Freycinet Lodge Coastal Pavilions featured on The Design Files
Posted 15 June 2018
Lucy Feagins from one of Australia's top design blogs The Design Files, shares her amazing immersive experience 'sleeping under the stars' in one of our coastal pavilions.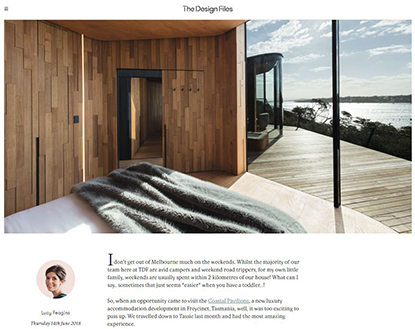 Describing the pavilions as 'breathtaking in design' and allowing an 'immersive connection to the landscape' Lucy also gives full appreciation to the rigorous work, meticulous detailing and high level of craftsmanship that went behind creating such a seamless and sensitive insertion into the unique beauty of Freycinet National Park.
Read Lucy's full article on The Design Files here.