LIMINAL ARCHITECTURE | Interview with the Archaeologist on Performing Arts site
Posted 16 November 2015
Ryk Goddard of 936 ABC interviews Parry Kostoglou of TASARC on the Creative Industries and Performing Arts site.
To listen to the intriguing story that's been revealed so far, click here.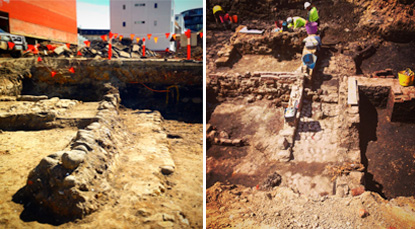 Left: Image showing the foundations of the pre 1820's cottage below and the later cottage foundations on top;
Right: the extent of the excavation uncovered at the rear of the Dolphin Hotel
Archaeologist, Parry Kostoglou, of TASARC, talks with Ryk Goddard of 936 ABC Hobart about the findings uncovered so far. New discoveries include foundations of a cottage and a fence post believed to be from a picket fence pre-dating 1820 which had not been previously realised. Pockets of original landscape dating back to 1804 are also adding to the overall story that is gradually being revealed.
The archaeologists have also unearthed an East India coin from the Dolphin Hotel dated 1803, and various bottles including salad oil ceramic bottles, case gin and a rum bottle all from the mid-1800s.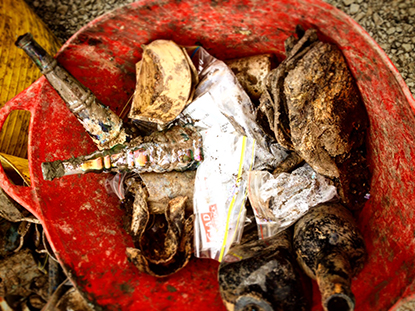 Various bottles unearthed on site over the past week