LIMINAL STUDIO | New Venture for Tracey Allen
Posted 1 September 2017
What an incredible journey we have shared together.
We wish Tracey the best of luck in her new venture and look forward to continuing our partnership in a new capacity. In her own words, Tracey explains why she has taken on a new challenge…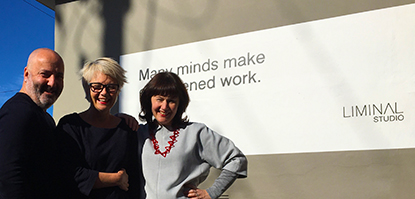 Liminal Studio Co-Founders, Elvio Brianese, Tracey Allen and Peta Heffernan
After six years as a co-founder and director of Liminal Studio, it is with many mixed emotions that I share my decision to leave and work with a new organisation in a new city on the other side of the world.
I can't believe it was eight years ago when Elvio & Peta came to me with an idea. They wanted to try something new for Tasmania - to create a studio, that was a creative 'think tank', founded on the principles of collaboration and free flowing thinking aimed at breaking down the silos of a traditional design practice and bringing better client focussed solutions to design challenges.
And so Liminal Studio was born!
Along the way we shared our knowledge, our love of design and our passion to make a difference through design … and we had lots of fun along the way. Our place was where ideas were exchanged and where we built new capacity to solve problems for our clients.
We won many awards and grew an international reputation that has seen us partner with companies and people from around the globe. I would never have imagined that I would get to work with people that I've only admired in books. Liminal Studio has achieved brilliantly over the past few years with exciting projects, winning design awards and invitations to speak at events. I've barely had time to share some of my recent graphics work like the North-West Coast Cancer Centre public art; Dobson Mitchell Allport re-brand; Glenorchy Art & Sculpture Park art interpretation, wayfinding at The Royal Hobart Hospital. As I write this I'm well underway with my part in The Hedberg project at Wapping.
So why am I leaving with all this success? Well I had an itch, I needed something more and I wanted to give. Two years ago, I received an Alcorso Foundation fellowship to follow my passion in human-centred design. After completing the master-class at Central St. Martins in service design, I realised that I wanted to stay in London. Here was where my next career beckoned, no longer as a graphic designer, who concentrated on clients' wants, but as a service designer, to better understand users' needs. The term is design thinking or strategy and is a method used to solve complex system problems within organisations. This is not a decision I've made lightly as it has taken me many years to grow my profile and that of Liminal Graphics. It also means I will leave my home, family and friends in Tasmania.
A quote I came across still replays in my head …
'It's the things that scare you the most that you have to do".
So what's next for me? I have started with the Thames Valley Housing Association in London as the Senior Service Designer. I will lead our trans-disciplinary team, a group of extraordinary individuals with a vision to transform the services that improve the lives of our social housing residents. It's a huge challenge and a massive learning curve, but with such great support, I'm excited.
To Peta and Elvio and the Liminal Studio team, thank you - together we've laughed, cried, argued and imagined. I am so grateful for their friendship and supporting me through this transition. We will continue to work together on current projects and into the future.
Come and visit me in London.
Tracey