LIMINAL ARCHITECTURE | High Commendation, Eat Drink Design Awards 2018
Posted 14 November 2018
We are pleased to share our Freycinet Lodge Coastal Pavilions have been awarded a High Commendation in the Best Hotel Design category for the 2018 Eat Drink Design Awards. We are delighted our work with Freycinet Lodge and tourism adviser, Brett Torossi, has been recognised for this prestigious hospitality award.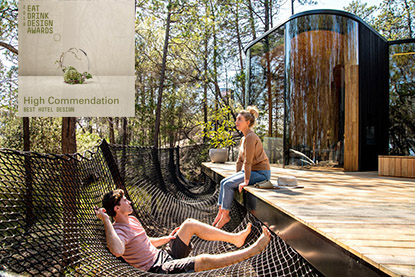 The inaugural Best Hotel Design category was a welcome addition to the awards this year, highlighting Australia's most inspiring accommodation.
Presented by Architecture Media, these awards traditionally recognise the most sought-after eateries, food stores, clubs, bars and temporary hospitality spaces in Australia. The focus is on good design, not the cost of the work, which makes for a diverse shortlist of venues across the country.
While we were the only Tasmanian project to be awarded, we were in great company. The category winner was Six Degrees Architects for the Brae Restaurant Accommodation, with further commendations going to Hecker Guthrie for Mitchelton Winery Hotel and Carr in collaboration with Fabio Ongarato Design for Jackalope Hotel Mornington Peninsula.
This year's jury highlighted that Australasian hospitality design has become synonymous with innovation and strong design, producing some of the best projects in the world. Cassie Hansen, editor of Artichoke magazine and jury chair shared, "The projects that resonated with the jury were those that demonstrated authenticity, clarity and confidence. We were excited by projects where the designer had successfully told the narrative of the venue through careful selection of materials, colours and forms."
The Eat Drink Design Awards were held at Melbourne's Luminare on Tuesday 13th November.