LIMINAL SPACES | Designs 'Born From Animals', a production by the Tasmanian Theatre Co
Posted 14 May 2014
We have been having fun with the Tasmanian Theatre Company's creative team, along with Melbourne director Aidan Fennessy in creating a spatial, dramatic response to the plays by Tom Holloway, Finegan Kruckemeyer and Sean Munro. The plays together create Born From Animals which opens next week.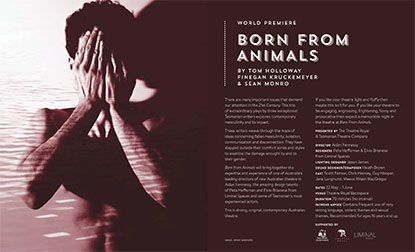 Be prepared to explore raw, masculine and at times harsh themes perforated with humour that will challenge, provoke and engage.
The show runs from 22 May - 1 June. For times and tickets visit TTC's website.
Click here for reviews.