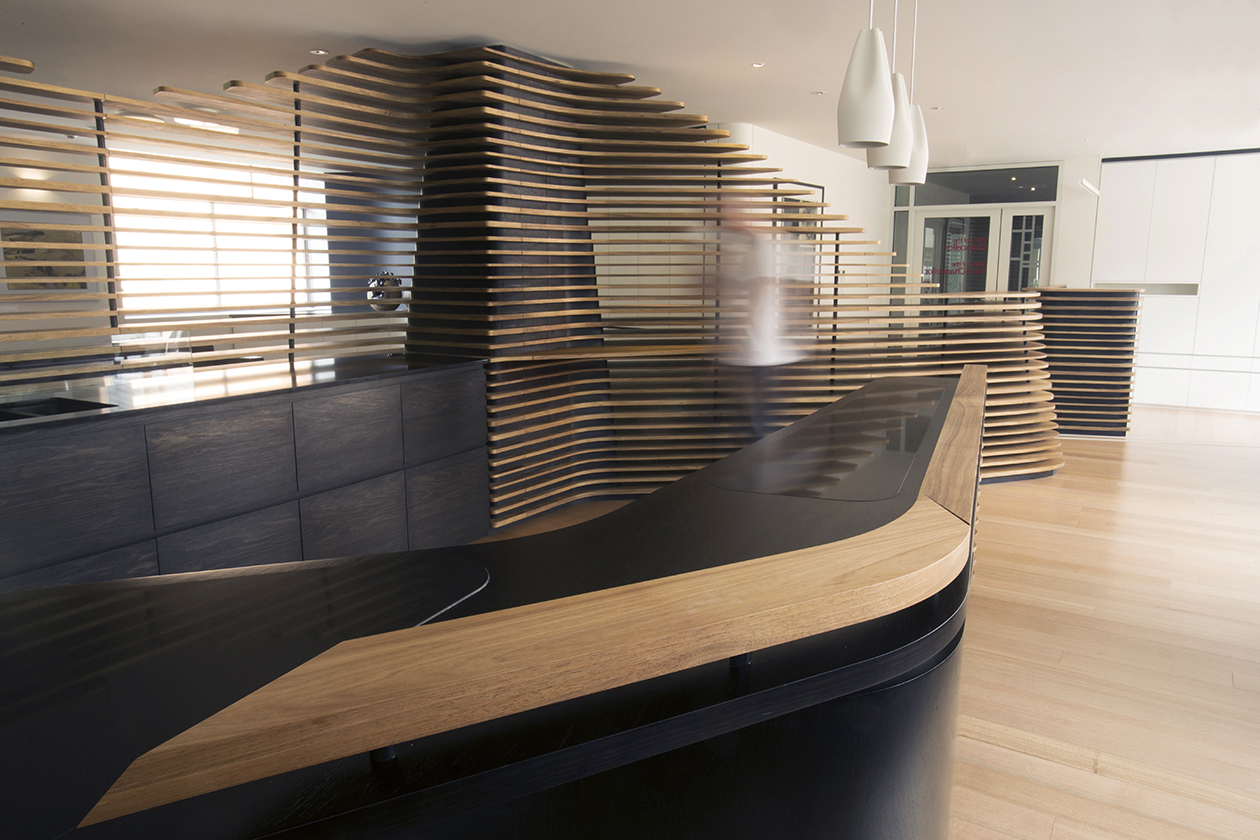 University of Tasmania Executive Workplace Renewal. Photography by Sandi Sissel and Peta Heffernan.
The brief required the existing space to be opened up into a workplace that harnesses natural light, transparency while also allowing for privacy. Faced also with the challenge of opening up a workplace spread across two buildings of different eras with significant uneven floors and ceilings, cleverly designed joinery disguise these discrepancies and unify the 290m2 into a cohesive and workable entity.
The multifaceted Blackwood joinery spine, is key to the spatial resolution. Layered with relevance and meaning specifically tied to the University, it guides circulation, filters views to activity, defines zones, separates private and public functions, enwraps the social hub and showcases alumni talent.
Various zones offer choices for working individually and collaborating, offering hotdesks, stand up, and informal work areas that encourage exchange and support a more congenial workplace.
The showcase potential of the space acknowledges this is where the Vice Chancellor and the executive team greet politicians, business leaders, international guests and VIP's making it a portal to the rest of the world and for the rest of the world to connect to the University. The renewal amplifies the University's values providing a conduit between the past and future with a modern elegance, celebrating connection to place.
The physical outcome was informed by acknowledging universities foster intellectual life, exchange and the dissemination of knowledge. Given the University is the fourth oldest in Australia, we celebrated heritage foundations upon which new technologies and methodologies are born. This was exemplified through inviting collaborations with a recent furniture maker graduate, engaging with the University's timber research unit, featuring and elevating Tasmanian blackwood timber veneer with minimal waste and combining traditional hand crafted jointing techniques with Parametric Design software and CNC routing.