LIMINAL ARCHITECTURE | Indo Pacific Recognition for 'The Building'
Posted 27 June 2019
And now the 2019 INDE.Awards.... Liminal has been given an Honourable Mention by the competition's 15 internationally-recognised judges for its design of the Freycinet Lodge Coastal Pavilions.
"On the global 'must stay' list of every architect"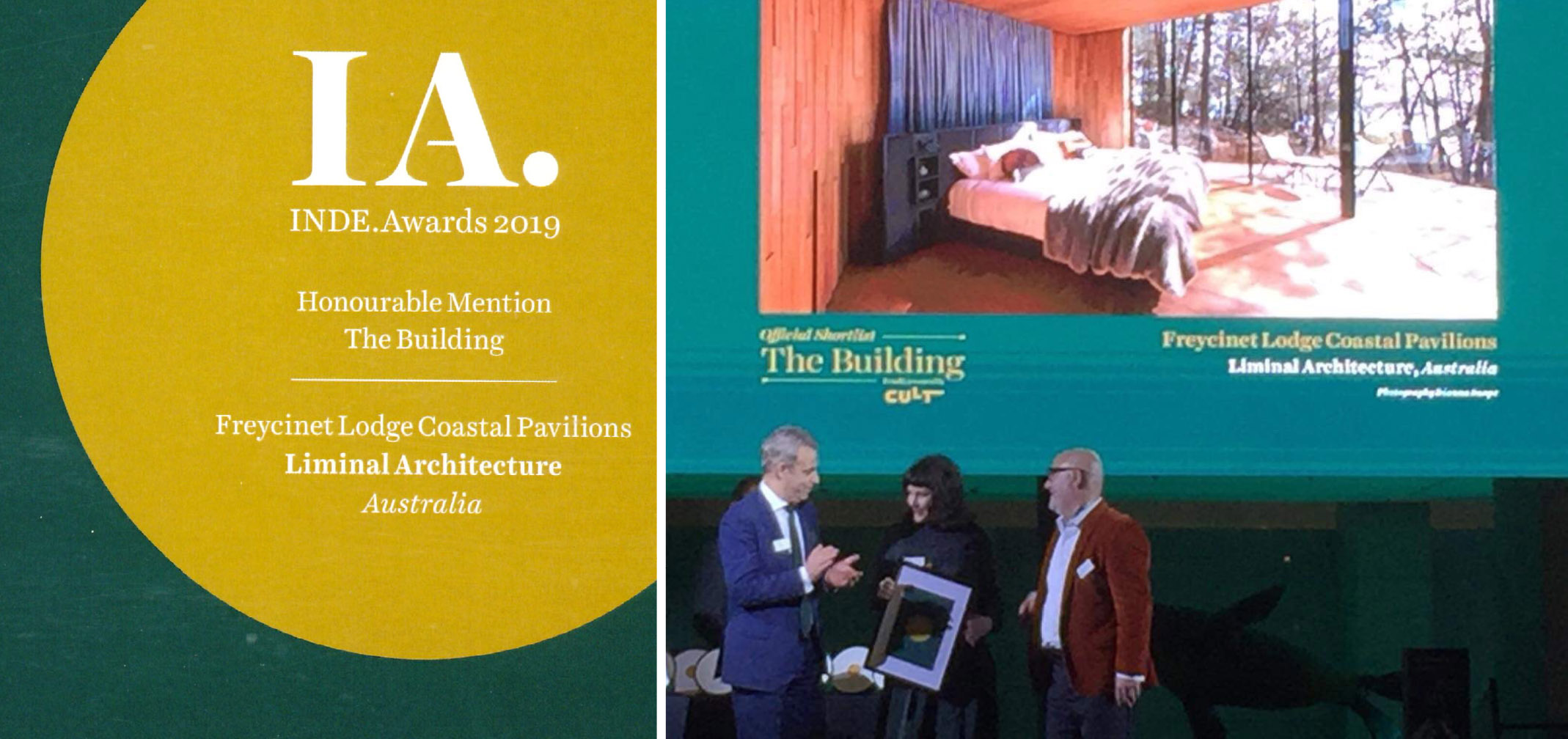 The INDE.Awards are a much-anticipated and rich expression of progressive design trends and innovations within the increasingly influential Indo-Pacific region. The awards were presented in Melbourne on June 21.
Aleesha Callahan, Indesign's digital editor, said: "This year's Winners and Honourable Mentions demonstrate a new level of ingenuity and skill in producing high-quality work that is both complex in its proposition, and simply exceptional in its execution."
Liminal's eminent recognition was for the highly-contested The Building category in which 12 designers were shortlisted for projects that "mark a new direction in the future of architecture, as well as its capacity to respond to its local place and culture."
In their comments the judges said the winning projects were "bold, visionary and progressive".
The entire competition drew 430 entries from 14 countries from throughout the Indo-Pacific region.
We are both struck and inspired to be in the company of a stellar range of professional designers from such varied experiences within this creative region.
Our co-director, Peta stated "It shows that adventurous and courageous design isn't just the realm of major city architects and that Tasmania is very much open to new ideas and projects," she says. "Being at the threshold is at the core of everything we do."
Read more about the pavilions' award success on INDE and Architecture & Design.