LIMINAL SPACES | World premiere of 'Dust' announced
Posted 9 July 2018
The latest creation, Dust, produced and performed by renowned contemporary dance company Dancenorth, is a design collaboration with Dancenorth, Liminal Spaces and Niklas Pejanti. It premieres at the 2018 Brisbane Festival in September.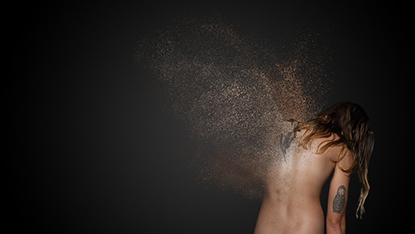 Photography by Amber Haines.
Dust will have its world premiere in September as part of the ever-growing Brisbane Festival, an international arts festival celebrating and promoting creative thinking and expression across a diverse range of platforms.
Liminal Spaces collaborated with Artistic Director Kyle Page, Associate Artistic Director Amber Haines, Lighting Designer Niklas Pajanti and the Dancenorth dancers to conceive of and explore the themes that would frame the choreography and artistic vision.
"Dust takes a deep and daring dive into how – through the lottery of birth – we inherit the architecture of restriction and opportunity. How do we agitate and illuminate the engineering of our own existence?" Kyle Page, Dancenorth, Artistic Director.
The physical translation of these themes, presented through a large installation that is seemingly one thing that gets transformed into another, is unravelled as the dancers manipulate and shift the onstage spatial environment.
The transformation that is undergone spatially supports "the investigation into the architecture of passive, personal, social, cultural and political inheritance"
For more information on purchasing tickets, visit the Brisbane Festival site here.
To see more of Dancenorth's current works, click here.