LIMINAL ARCHITECTURE | Official opening of new creative arts complex at Dominic College
Posted 11 April 2018
Our latest addition to Dominic College, the Fra Angelico and Oratory Space, offers a new suite of learning spaces dedicated to fostering the creative arts, features our custom-designed brick and was officially opened with a celebration showcasing the musical talent of the College.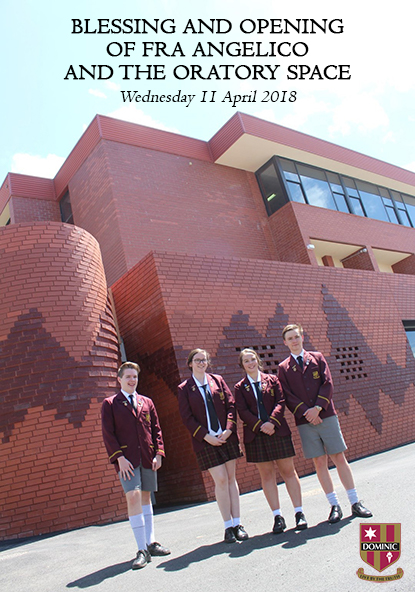 The new creative arts suite of spaces, a transformative extension stemming from the underutilised undercroft of an existing brick building in the middle of the school grounds, will be a creative honeypot where students across all years can come together, fostering the development and cross-pollination of the different creative arts offered by the school in a multidisciplinary environment.
Part of the challenge was to provide an extension to the existing face-brick 1990's building that could co-exist in a harmonious manner, while reflecting and highlighting the creative activities of the students within. As an expressive feature, our custom-designed, carbon-neutral brick, 'Liminal Lava', created with Austral Bricks, is used to graphically represent a sound-bite of the College's school song, referencing the importance of music and the creative development of the students.
Students, staff, parents, friends, politicians and local representatives alike all gathered to celebrate with intermittent bursts of talent from the school band and choir, showcasing what will only be further nurtured in the new Fra Angelico and Oratory Space.