LIMINAL SPACES | Wins National design award
Posted 12 November 2012
The Interior Design Excellence Awards (IDEA 2012) announced Liminal Spaces as the national winner of the Event Category for the production design of IHOS' opera The Barbarians which premiered at this year's MONA FOMA.
LIMINAL SPACES has won the national award for the Event category at the 2012 Interior Design Excellence Awards (IDEA) for the conceptual and production design for IHOS' contemporary opera, The Barbarians. The opera was commissioned by MONA FOMA for this year's festival in Hobart.

Photographer: Peter Whyte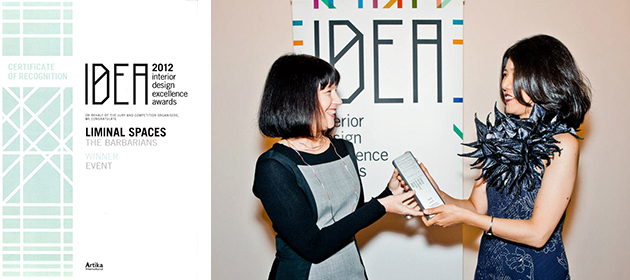 The IDEA awards recognise National excellence in design. They are acknowledged as the pre-eminent design awards program, receiving hundreds of submissions from across Australia.
The collaboration between the performing arts company, IHOS and Liminal Spaces explored the central theme of 'otherness' taken from Constantine Cavafy's 1904 poem 'Waiting for the Barbarians'. The themes and xenophobic attitudes explored still resonant with today's political climate.
Hobart's City Hall was transformed for The Barbarians. The design of the stage, 30m in length, allowed the performance to traverse between different worlds represented in the poem and in Cavafy's life.
The design aim was to produce maximum effect with minimum resources. Liminal Spaces sought to define a space with elements that could serve multiple functions and create a completely immersive environment. A framework was created to inspire creative interaction from the performers and the artistic director that supported and lifted the performance rather than competed with it.
Jury member, Judith O'Callaghan, stated the design was "a very clever way of defining a space within a space, using minimal structural elements that also support the creation of atmospheric effect."
The national shortlist included 14 entries for the IDEA Event category.
Liminal Spaces was also short-listed in the Workplace (under 1000sqm) category for its innovative design of Tony Hill Dental's new surgery in the Hobart CBD.
Winning the Event category is again a tribute to the quality of work that comes out of this State. It acknowledges the calibre of the cultural contribution that is being made by our creative industries.
Liminal Spaces' collaboration with the artistic director, Constantine Koukias commenced in 2009 with Kimisis-Falling Asleep which delighted audiences, critics, MONA FOMA organisers and partners alike in 2010, and elicited a further invitation and commission for The Barbarians performed in January 2012. The partnership has created and delivered high quality contemporary productions accessible to national and international audiences.
Other accolades Liminal Spaces and IHOS have received for The Barbarians include:
- Australian Business Arts Foundation's (ABAF) City of Melbourne SME Award (Tas) 2012
- Nominated: Best Opera for the Helpmann Awards 2012
- National Commendation for Installation Design in 2012 Australian Interior Design Awards
- Best of State Commercial Design in 2012 Australian Interior Design Awards.
Winning projects will be published in a special IDEA 2012 edition of (Inside) magazine.
IDEA 2012 reveals full list of winners here.