LIMINAL SPACES | wins Best Design Theatre Award
Posted 2 March 2015
We are thrilled to have won Best Professional Design at the first Tasmanian Theatre Awards which were held on Saturday night.
It was a fabulous evening celebrating the exceptional talent that significantly contributes to our cultural community.
Congratulations to the Theatre Council of Tasmania for getting this inaugural event recognising excellence in theatre, up and running and congratulations to all the nominees and winners!
More on our Born From Animals design can be found here.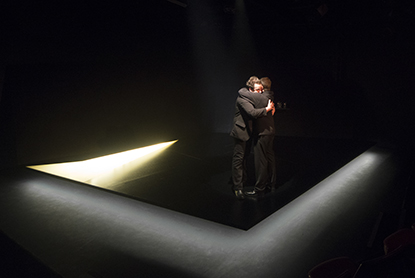 The Tasmanian Theatre Company invited Liminal Spaces, director Aidan Fennessy and lighting designer, Jason James, to bring to life three plays that formed the production, Born From Animals. The plays written by Tom Holloway, Finegan Kruckemeyer and Sean Munro explored dark, intense themes.
Liminal developed a spatial, theatrical framework to inspire creative interaction from the director and actors enabling them to use concealed elements to change scenes, become props and create different worlds throughout the performance. Set against the sombre, black backdrop, colour accents were revealed to shift the visuals and shape for each play, while adding an intensity corresponding with the emotions and scenes portrayed. Our collaborative design approach aided and stimulated the creative process and ensured a cohesive, integrated outcome with welcomed results.
A full list of winners can be found in this Mercury article.