LIMINAL ARCHITECTURE | awarded Academy of Creative Industries & Performing Arts project
Posted 16 August 2013
Liminal Architecture has been awarded the role of Principal Consultant for the delivery of the University of Tasmania $75M Academy of Creative Industries and Performing Arts (ACIPA). Liminal will partner with internationally acclaimed Singaporean architects WOHA and world leading Arup Acoustics and Theatre.
Australian Design Review Article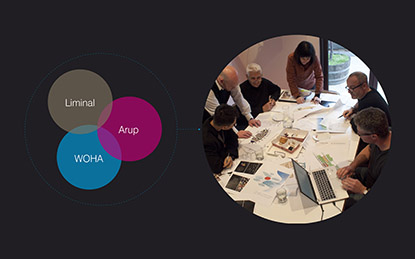 In an extremely competitive pitch against some of the most prominent firms from around the globe, Liminal Architecture, WOHA and Arup's vision of ACIPA as a thriving place to gather, engage, perform and exhibit has the visionary measure to enhance the cultural sector and provide connections with the broader local and international community. Its intention is to be a beacon for researchers, performers, producers, practitioners, educators, students, the public and tourists. Its global presence will be a catalyst for attracting the very best talent and international collaborations, physically and through its virtual connectivity.
ACIPA's colocation with the Theatre Royal will provide the treasured landmark with much needed front of house facilities. The shared foyer and hospitality areas will generate a hub of activity; providing opportunities for collaborative exchange, exhibitions, media interactions and retail to enhance activation on Campbell and Collins Street.
The Academy of Creative Industries and Performing Arts is an initiative of the Australian Government being conducted as part of the Education Investment Fund.
Tim Munro, Chief Executive of the Theatre Royal said "The Theatre Royal is delighted with the announcement of Tasmanian firm Liminal Architecture as the Principal Consultant for this project which includes the Theatre Royal developments. It brings us closer to achieving our aims of improving facilities at the Theatre Royal for our patrons and building a new theatre space which will allow us to successfully present more live theatre for audiences to enjoy. We look forward to working with Professor Peter Rathjen, the team from UTAS and Liminal Architecture to deliver this landmark development."