Woodbridge Residence, Woodbridge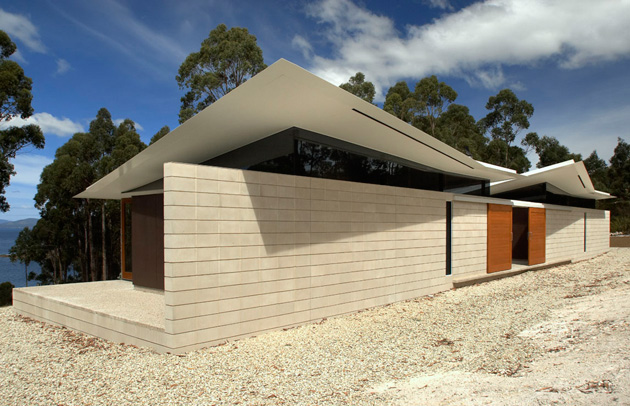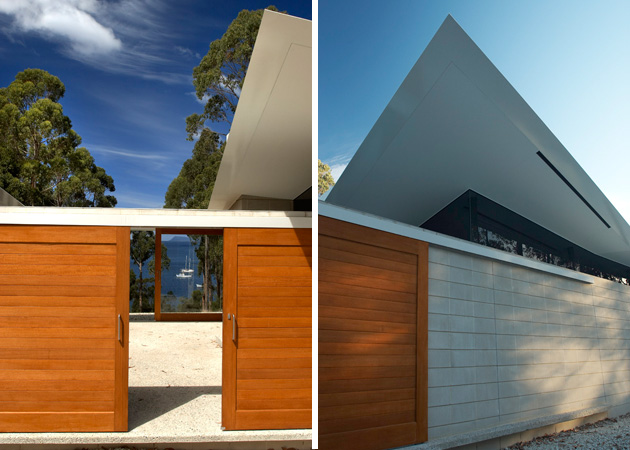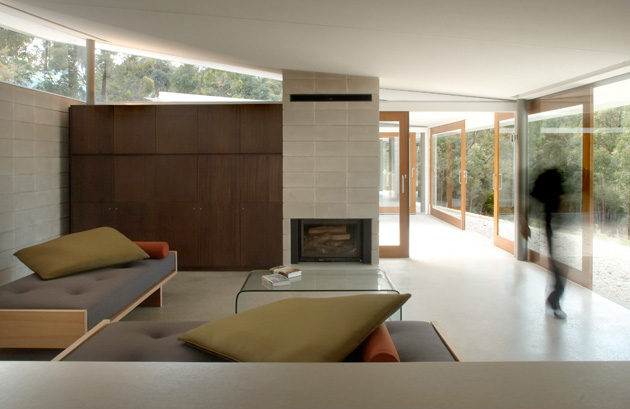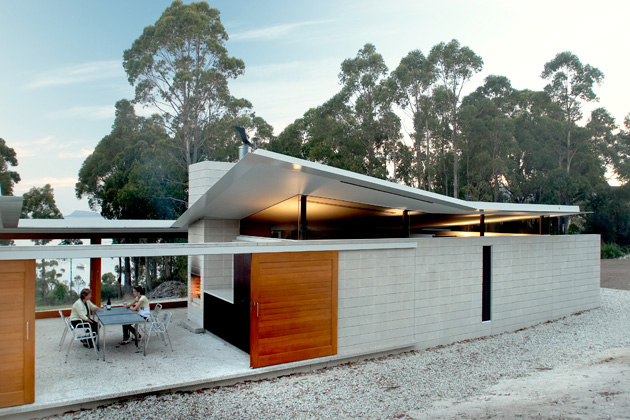 Photography by Peter Whyte
The Woodbridge Residence is a collaborative conversation between site, owner, context, designer and desire. This modestly sized building weaves together a number of threads that are all evident and resolved in every detail.
Repair is the first thread. When the client, a busy professional, bought the site it was degraded and littered with debris. He began to visit the site on a regular basis, taking time to clear, untangle and replant the site and so the home is sited to minimise impact and to maximise the effects of his care.
The second thread speaks of necessity. With a river and wild weather to the south and sun to the north, the building – two pavilions with a courtyard between – is in conversation with its environment. It provides space that captures the warm, north light while tempering the effects of the wind. The glazed southern face shields the occupant while framing water views. Sliding openings allow for cooling cross ventilation.
A third thread is emotion and memory. The owner has fond recollections of time spent with his father cooking outside and the protected courtyard, with custom fireplace, is a connection to this relationship and experience.
Finally, privacy and retreat complete the weave. The heavy wall to the north, with solid sliding doors, divides public from private and forms a back to a cave-like, interior.
Present in each thread is a shared desire for refinement and simplicity. Careful selection of materials, articulation of structure and an approach stretching from site selection through to furniture design are reflected in a finely woven building made with care and time.
Jury Citation: AIA Residential - New Houses Award 2006
'The Woodbridge Residence by Liminal Architecture is an outstanding example of complex and sophisticated residential architecture disguised in a simple, subtle package.
Its modest size belies the depth and layering of meaning imbedded within the design and is testament to the relationships between the architect and the client, the client and the site, and the house and its environment.
In the arrangement of spaces, and the alignment and positioning of walls, screens, openings, and glazing, the architect has successfully expressed the client's memory of childhood outdoor living experiences, and the adult desire for privacy and retreat.
The architects have resolved the often conflicting requirements of siting and outlook with the need to respond to environmental conditions. The lifting of the roof edge towards the northern sun to allow warmth and light, the low profile of the roof with wide overhangs to shade the walls and glazing, are lyrical expressions of this considerate design.
Overall, a delightful and instructional example of consummate residential architecture'
A full list of awards can be viewed here.
T +613 6231 0166
contact@liminalstudio.com.au


palawa country
100 New Town Road | nipaluna New Town | lutruwita Tasmania | 7008
wurundjeri country
Level 2 GPO Building 350 Bourke Street |
naarm Melbourne | Victoria | 3000