Tagaria lia (Aboriginal Child and Family Centre)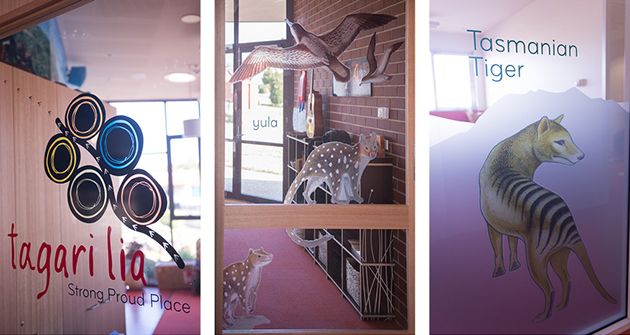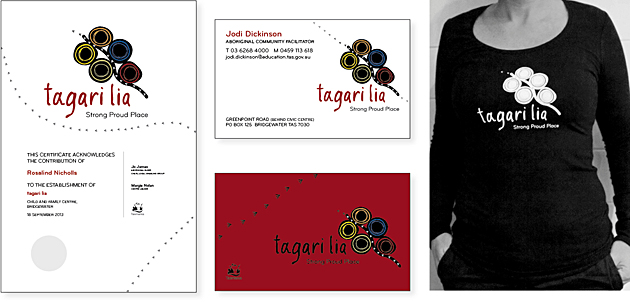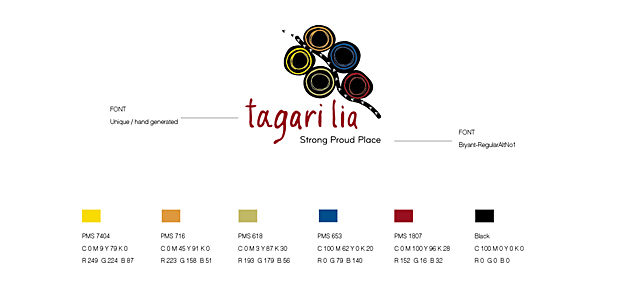 Tagaria lia is aboriginal for family. It conveys connections, relationships and community. As a newly developed Aboriginal Child and Family Centre in Bridgewater, the aim was to provide an identity that reflected the philosophy, ambitions and purpose of the new facility. A Strong Proud Place.
Cultural understanding and comprehension was paramount in the formation of symbolic representation for the centre. Symbols and artistic endeavours hold significant prominence within the Aboriginal culture and this was a central consideration in the design process.
The creative concept was formed on the idea of a growing tree with each circle representing a leaf on the tree. Each leaf, five in total, visually depicted in spirals as per Aboriginal art symbolise each year of the child's life whilst the inner circles represent the various communities around the area. The stem represents a branch, walking track or journey with arrow footsteps traversing its path. The typography used is hand-written to translate the warm and approachable personality of the organisation and centre.
The response to the Tagaria lia identity has been overwhelming. The overall look and feel of the identity appeals and immediately places members of its community at ease as it authentically embraces its Aboriginal origins.
Graphic Design by Liminal Graphics led by Tracey Allen.