LIMINAL STUDIO | Team Member Carly McMahon
Posted 16 December 2016
When we advertised earlier in the year for a conceptual thinker and team player that finds all design inspiring and loves to travel, Carly fit the bill perfectly.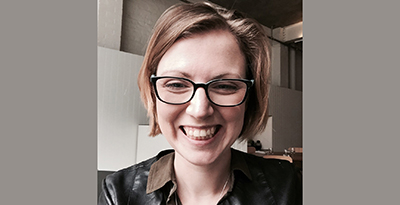 Originally from Erica in Victoria, Carly made Tasmania her home when she enrolled at the University of Tasmania to study architecture. After graduating in 2010, Carly worked at Architecture Matters in Melbourne and Next 50 Architects in Hobart and has been very active within the profession as the Communications Manager for Emerging Architects Tasmania, volunteering her time to organise, market and promote their events and communicate with younger professionals in the architectural network.
Carly thrives in a collaborative environment, enjoys graphic design, loves to cook and has lifted the bar within the studio with her offerings for morning/afternoon teas (her recent birthday cupcakes were exquisite). Her bubbly, friendly nature, social aptitude, culinary and organisational skills and attention to detail may be a product of having completed her Certificate 3 in Hospitality Operations and extensive experience working in hotels and cafes. We are expecting her to share her Japanese cooking skills after her trip to Japan next year.
Since joining Liminal, Carly cites our regular Friday night 'Creative Conversations' as a highlight. We invite people, mostly from outside of the architecture profession, to speak about ideas, experiences or projects they are undertaking. Carly enjoys the connections formed, being exposed to other modes of thinking and diverse ideas which can inform architecture and design practice, and of course the delicious cheese!
Ever since we launched Liminal in 2011 we ask our team members to select an object that is meaningful to them to form part of the team's photography – click here to reveal more about Carly.