LIFE IS TOO SHORT TO BE MEDIOCRE | Graduates apply now
Posted 12 February 2016
At Liminal Studio we are looking for a graduate architect, but not any graduate, one who shares our ambition.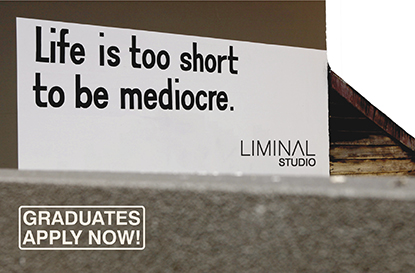 You'll be curious and have diverse interests that inform your thinking.
You'll be a clear communicator.
You will be able to take direction and give inspiration.
You will know that problems exist to be solved.
You will salivate at the prospect of not just working within a team, but energising it.
Technically, you'll be off to a flying start with documentation, possess advanced 3D modelling skills and you'll be super-confident in Sketchup, Rhino, ArchiCAD, and the Adobe Creative Suite.
So if you want the perfect launch pad for stratospheric success, email your submission to: contact@liminalstudio.com.au
Submissions close Friday 26th February 2016.